Check out this great article by John Riha about adding an attic bedroom........
Attic Bedroom Remodel: Return on Investment
An attic bedroom remodel adds value and extra living space without increasing the size of your house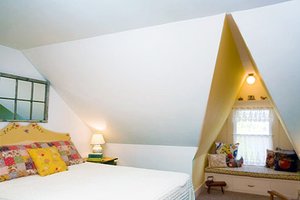 A dormer window can provide the perfect spot for a window seat, which also adds storage space to an attic room. Image: Five Gables Inn/East Boothbay, ME
An
attic bedroom
can become the extra room under your roof that hosts teenagers, guests, or even the masters of the house. An attic bedroom remodel is a good way to add space without adding on, which would be a much bigger investment of time and money.
Attic bedroom investment
Attics are penny-wise candidates for remodeling projects because the basic structure—a roof and floor—already exist. Although the pitch of the roof usually dictates sloping interior walls and restricted headroom, people often find these quirky characteristics charming and desirable.
According to Remodeling Magazine's annual
Cost vs. Value Report
, a midrange attic bedroom remodel costs $51,400 and returns more than 72% of the investment, based on national averages. That's down nearly 11% since 2009.
Attic bedroom requirements
An attic bedroom has special requirements:
Stairway from the floor below
Dormer windows for air, daylight, and emergency egress.
The cost of these projects, plus standard costs for installing
heating and cooling systems
, finishing surfaces, and adding a bathroom, is $198/sq. ft.
The return on your investment in an attic remodel varies by region. In the Pacific region of the country, the return on investment is almost 80%. In the central Midwestern states, such as Iowa and Kansas, the return on an attic remodel is 63%.

National average cost, 15x15 ft. attic remodel, with 5x7 ft. bath:
Job Cost: $51,400
Resale Value: $37,100
Cost recoup: 72.2%